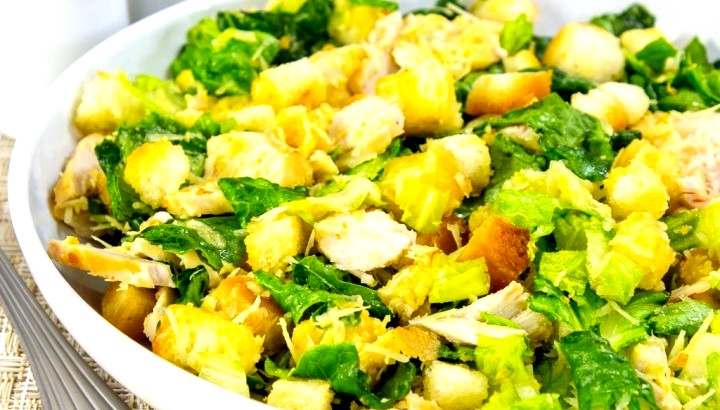 Very popular salad.
I'm sure you've already tried it in cafes or restaurants.
We will cook it at home.
And may the experts forgive us if we do something not according to the rules.
We will try to bring it closer to the original..
From the specified amount of ingredients, 6-7 servings are obtained.
Ingredients
200 g loaf
300 g chicken fillet
1 large bunch of lettuce
50 g parmesan
1 clove of garlic
olive oil
For refueling:
2 boiled yolks
2 tsp mustard
1 clove of garlic
2 tbsp lemon juice
1 tsp 6% vinegar
100 ml olive oil
salt
pepper
Preparation
Mix 5 tablespoons of oil with 1 garlic clove squeezed through a garlic press.
Leave for 15 minutes.
Strain.
Cut the loaf into small cubes.
Fry the pieces of loaf in garlic oil until golden brown.
Fry the fillets in vegetable oil until tender (fry for about 20 minutes, on both sides).
Salt, pepper.
Fillet cut into small pieces.
Make refueling.
To do this, grind the yolks with mustard.
Add garlic squeezed through the garlic press.
Mix.
Add vinegar and lemon juice.
Salt, pepper.
Add oil.
Mix.
Grate cheese on a fine grater.
Tear the salad with your hands.
Mix salad, fillets, croutons, cheese.
Add dressing.
Mix.
Enjoy your meal!