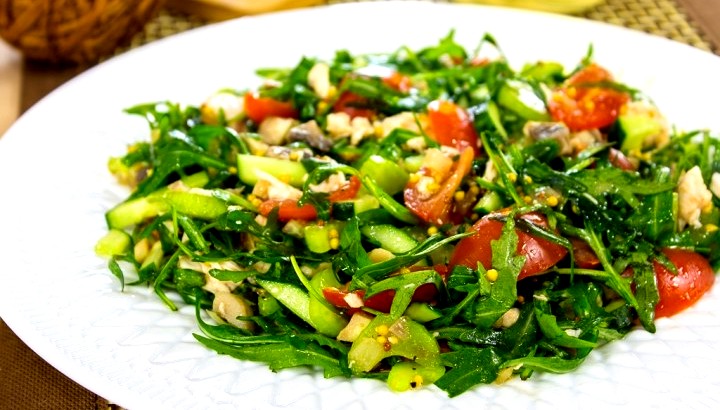 Light, tasty, juicy, hearty salad.
Instead of arugula, you can use any salad to taste.
From the specified amount of ingredients, 6-8 servings are obtained.
Ingredients
150 g chicken fillet
150 g mushrooms
100 g onions
150 g celery stalks
150 g tomatoes
150 g cucumbers
100 g arugula
vegetable oil
salt
pepper
refueling:
50 ml vegetable oil
20 ml vinegar 6-9%
1 tbsp mustard (whole grain or paste)
Preparation
Boil the chicken fillet until tender (cook for about 20 minutes after boiling).
Cool down.
Cut in small pieces.
Finely chop the onion.
Finely chop the mushrooms.
Fry the onion in vegetable oil.
Add mushrooms.
Salt, pepper.
Fry until tender.
Cut cucumbers into strips.
Chop the tomatoes.
Chop celery.
Cooking gas station.
Mix oil and vinegar.
Add mustard.
Salt, pepper.
Mix.
Mix fillet, mushrooms, celery, tomatoes, cucumbers, arugula.
Add dressing.
Mix.
Enjoy your meal!