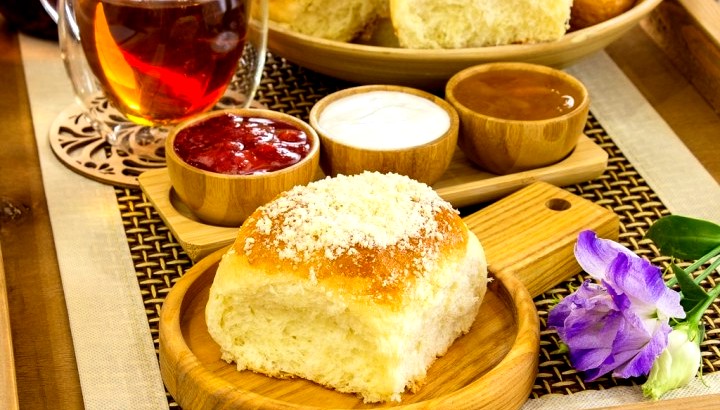 Buns loved by many since childhood. And the most delicious thing about them is the sprinkling. :)
The buns are fluffy, airy.
They can be served with jam, preserves, etc..
And what aroma is during baking! I highly recommend making buns and pampering your loved ones.
From the specified amount of ingredients, 12 buns are obtained.
Ingredients
dough:
200 ml milk
100 g butter
1 egg
100 g sugar
2 tsp vanilla sugar
8 g yeast (dry)
0.5 tsp salt
450-500 g flour
sprinkling:
30 g butter
30 g sugar
60–70 g flour
also:
Preparation
Heat the milk (it should be warm, not hot).
Add 1 tbsp. Sahara.
Add yeast.
Mix.
Add 100 g flour.
Mix.
Let the dough rise.
Add oil.
Add egg.
Mix.
Add sugar and vanilla sugar.
Mix.
Add salt, flour.
Knead the dough.
Let the dough rise.
Cooking sprinkles.
Grind sugar with butter.
Add flour.
Grind with butter and sugar.
It should make a crumb.
Shake the egg.
The mold (I used a mold measuring 25 × 35 cm) grease a little with oil.
Lay out the buns.
Let them rise.
Brush with an egg.
Spread out the sprinkling.
Put in an oven preheated to 180 degrees.
Bake for 30-35 minutes.
Enjoy your meal!