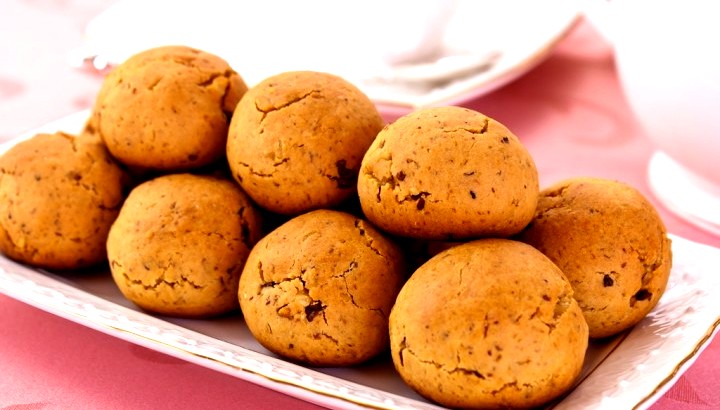 Delicious biscuits with a rich nutty flavor.
I advise you to use walnuts.
From the specified amount of ingredients, 30-40 pieces are obtained.
Ingredients
150 g sugar
2 tsp vanilla sugar
50 g butter
1 egg
5 tbsp milk
11 g dry yeast
150 g starch (potato)
250-300 g flour
150 g walnuts
Preparation
Pour yeast with warm milk.
Add 1 tsp. Sahara.
Dough should increase in volume.
Put nuts in a blender.
Grind (not very fine).
If there is no blender, the nuts can be chopped with a knife.
Lightly fry the nuts (without oil).
Grind butter with sugar and vanilla sugar.
Add egg.
Mix.
Add suitable yeast.
Mix.
Add nuts.
Mix.
Add starch.
Mix.
Add flour.
Knead the dough.
Wrap the dough in a bag.
Refrigerate (not freezer) for 5 hours.
Form the dough into balls the size of a walnut.
Line a baking sheet with baking paper or grease.
Lay out the balls.
Put in an oven preheated to 180 degrees.
Bake for 30-35 minutes.
Enjoy your meal!