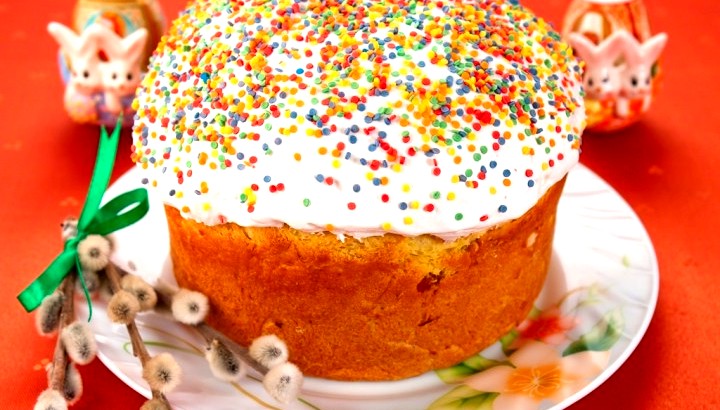 Thanks to saffron, Easter cakes are very fragrant and bright.
The most important secret of a successful Easter cake is to cook it in a good mood, then it will turn out to be lush, tall and very tasty..
From the specified amount of ingredients, 2 Easter cakes are obtained with a height of 11 cm and a width of 17 cm.
Ingredients
250 ml milk
7-11 g dry yeast (or 50-60 g fresh yeast)
150 g sugar
2 tsp vanilla sugar
5 yolks
a pinch of saffron stigmas or 1/3 tsp ground saffron
200 g butter
650-700 g flour
50 g raisins
50 g nuts (I have almonds)
50 g candied fruits
glaze:
Preparation
In this recipe, I used saffron stigmas, which can be replaced with 1/3 tsp. ground saffron.
Saffron gives a unique aroma and golden color.
Grind saffron stigma in a mortar.
Pour 3 tbsp. hot water (ground saffron also pour 3 tablespoons hot water).
Leave on for 10-15 minutes.
Heat the milk a little (so that it is slightly warm).
Add yeast and 1 tsp. Sahara.
Add 200 g flour.
Mix.
Cover with a towel.
Put in a warm place.
The dough should double in size (this will take about 30 minutes).
Grind the yolks with sugar and vanilla sugar.
Add the yolks to the matched brew.
Mix.
Add saffron (along with water).
Add softened butter.
Mix.
Add 450-500 g flour.
Knead the dough.
The dough must be kneaded well, it should not be steep and should not stick to your hands.
Put the dough in a warm place again.
Let the dough rise well (this will take 50-60 minutes).
I pour warm water into a bowl, put a container with dough into it.
The dough should rise well.
Chop nuts.
If candied fruits are large, they must be cut into small pieces..
Add raisins, nuts, candied fruits to the dough.
Mix well.
Put the dough in a warm place again.
Give good rise.
Grease the mold with oil.
Spread the dough to 1/3 of the mold height.
Let the dough rise again already in shape.
Put in an oven preheated to 180 degrees.
Bake for 35-40 minutes (cooking time depends on mold size).
If the top of the cake starts to burn, cover it with foil.
Grease ready-made hot cakes with protein cream and sprinkle with pastry sprinkles or decorate with candied fruits.
Enjoy your meal!