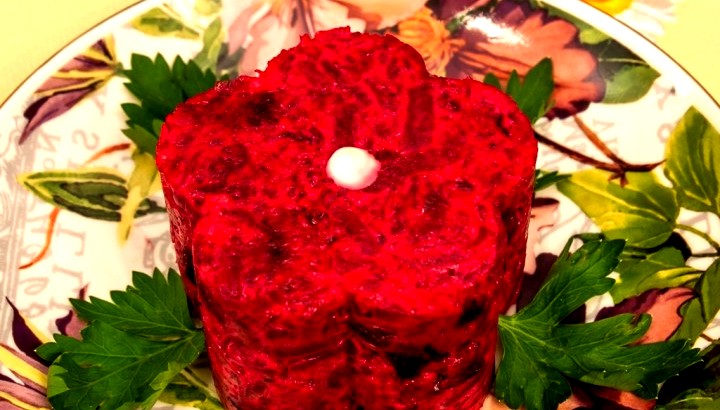 I think many people know this simple but very tasty salad recipe.
Successful combination of products.
From the specified amount of ingredients, 6-8 servings are obtained.
Ingredients
1 kg of beets
300 g prunes
200 g walnuts
2-3 cloves of garlic
mayonnaise
Preparation
Boil the beets until tender.
Finely chop the prunes.
If the prune is hard, pour hot water over it, leave for 30 minutes.
Chop nuts.
Cool the beets.
Clean up.
Grate.
Add garlic squeezed through the garlic press.
Add prunes and nuts.
Mix.
Season with mayonnaise.
Salad can be served in portions.
For example, so.
Take a cookie cutter (I used a cookie cutter).
Put salad in it.
Tamp down a little.
Remove the mold.
Decorate with greens.
Enjoy your meal!