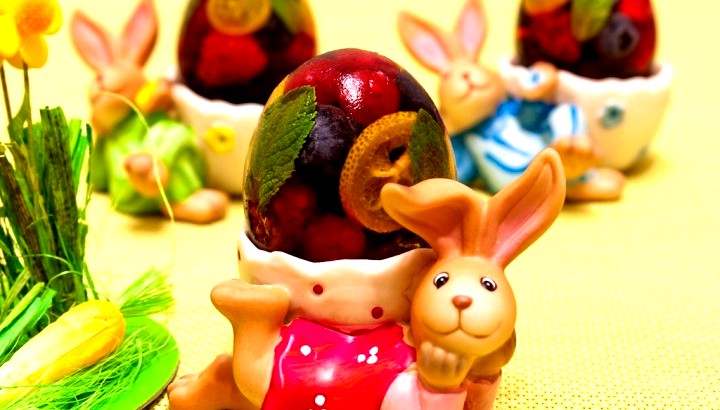 A bright, festive dessert. Especially relevant for Easter.
You can use any berry in the recipe, fresh or frozen.
Instead of kumquats, you can use citrus wedges, peeled and cut into small pieces.
It is advisable to use light juice (compote, syrup) to better see the berry.
If the juice is very sweet, you do not need to add sugar to it..
From the specified amount of ingredients, 7 servings are obtained.
Ingredients
7 eggs
200 ml of juice (compote, syrup)
3-4 tbsp gelatin
berry
mint
kumquats (or any citrus fruits)
sugar to taste
Preparation
Pour gelatin with 100 ml of cold boiled water.
Leave for the time indicated on the package.
Wash eggs well with baking soda.
Then, from the blunt end, make a hole in the eggs with a diameter of about 2-2.5 cm.
Pour the white and yolk into a plate, we don't need them, we only need the shell.
Dissolve baking soda in warm water, soak the shell (this is done for disinfection).
Then rinse it under running water.
Bring gelatin to a boil, but do not boil.
Add sugar to the juice to taste.
Mix well.
Add gelatin.
Mix.
Put the shell in a stand or container from under the eggs, in order to make it easier to lay out the filling.
Put mint on the bottom of the shell.
Lay out the berries, kumquats (pre-cut them thinly).
Pour in juice with gelatin.
Refrigerate for 8-10 hours.
Then peel the shell.
Enjoy your meal!