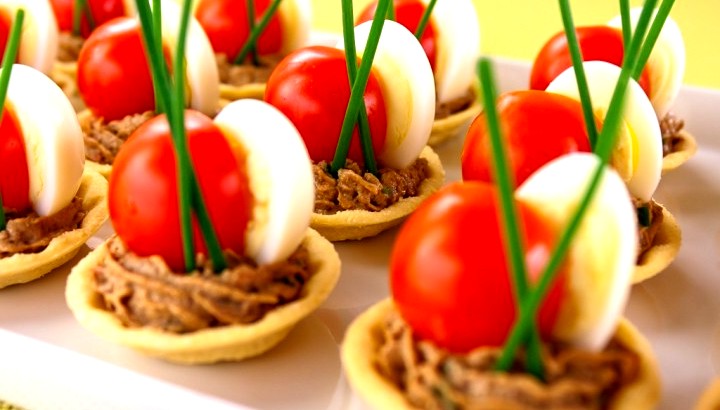 Delicious snack!
The mousse turns out to be very, very gentle. Cherry and quail eggs complement the flavor and brighten the tartlets.
It is advisable to use small tartlets. Instead of cherry tomatoes, you can use ordinary tomatoes, cut into small pieces, you can also use chicken eggs instead of quail eggs.
From the specified amount of ingredients, about 40 small tartlets are obtained.
Ingredients
liver mousse:
500 g chicken liver
150 ml cream (10-20%)
150 g carrots
150 g onions
greens to taste
salt
pepper
vegetable oil
also:
tartlets
quail eggs (about 20 pcs.)
cherry tomatoes (about 20 pcs.)
Preparation
Finely chop the onion.
Grate carrots on a fine grater.
Finely chop the greens.
Fry the onion in vegetable oil.
Add carrots.
Fry a little.
Add liver.
Fry, stirring, for 15-20 minutes.
Cool down.
Put the finished liver in a blender.
Add cream.
Grind.
If there is no blender, the liver can be passed through a meat grinder, then add cream, mix.
Add greens to the liver.
Salt, pepper.
Mix.
Cut cherry and eggs in two.
Put the liver mousse in the tartlets (using a cooking syringe or spoon).
Put eggs and cherry on top of the mousse.
Decorate with greens.
Enjoy your meal!