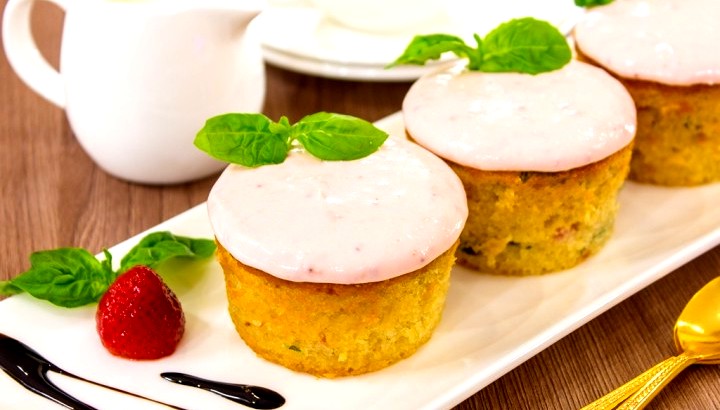 Delicate, aromatic muffins. The cream perfectly complements the taste.
I highly recommend trying!
Instead of strawberries, you can use another berry, but this will be a completely different recipe..
I also advise you to use strawberry yogurt (of any fat content).
From the specified amount of ingredients, 10-12 pieces are obtained.
Ingredients
dough:
150 g butter
3 eggs
100 g sugar
200 g strawberry yogurt
basil
2 tsp baking powder
150-180 g flour
cream:
200 g cottage cheese (hochland, almette, philadelphia)
100 g strawberries
50–70 g sugar
Preparation
Cooking the dough.
Finely chop the basil (we need 2 tablespoons chopped basil).
Grind butter with sugar.
Add eggs.
Mix.
Add yogurt.
Mix.
Add basil.
Mix.
Add baking powder and flour.
Mix.
Grease the molds a little with oil..
Spread out the dough, filling the molds 2/3.
Put in an oven preheated to 180 degrees.
Bake for 25-30 minutes.
Cool down.
Cooking cream.
Chop strawberries in a blender.
Mix curd cheese and sugar.
Add strawberries.
Mix.
Put the cream on the cooled muffins.
Enjoy your meal!