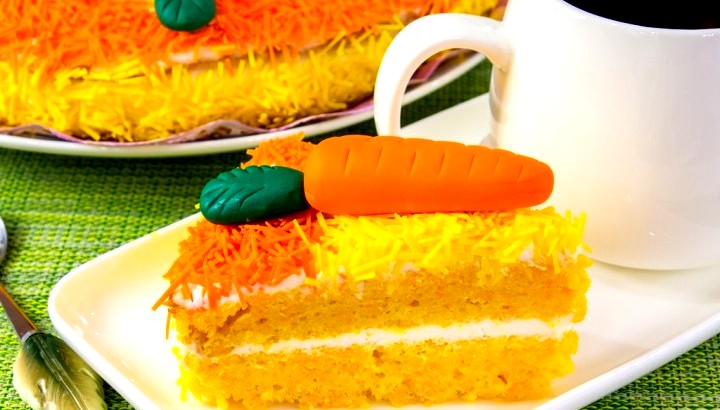 Delicious tender juicy cake.
In addition, bright and elegant.
It's very simple to prepare.
From the specified amount of ingredients, 6-8 servings are obtained.
Ingredients
150 g sugar
150 g butter
3 eggs
450 g carrots, finely grated
10 g baking powder
350-400 g flour
cream:
300 g sour cream
100 g sugar
Preparation
Grind butter with sugar.
Add eggs.
Mix.
Add carrots.
Mix.
Add baking powder and flour.
Knead not tough dough.
Divide the dough into two parts.
Bake two cakes.
Bake in a form greased with vegetable oil (I have a form with a diameter of 26 cm), at a temperature of 180 degrees for 30-35 minutes.
To check whether the cake is ready or not, it must be pierced with a toothpick (or a match), if it is dry, the cake is ready.
Prepare the cream.
Stir sour cream with sugar.
Grease the finished cake with cream.
Cover with a second cake layer.
Decorate to taste.
I sprinkled the cake with chocolate chips (purchased) and decorated with a mastic carrot.
How to do this, I told on the forum:
Marshmallow sugar paste,
Mastic carrots.
Enjoy your meal!