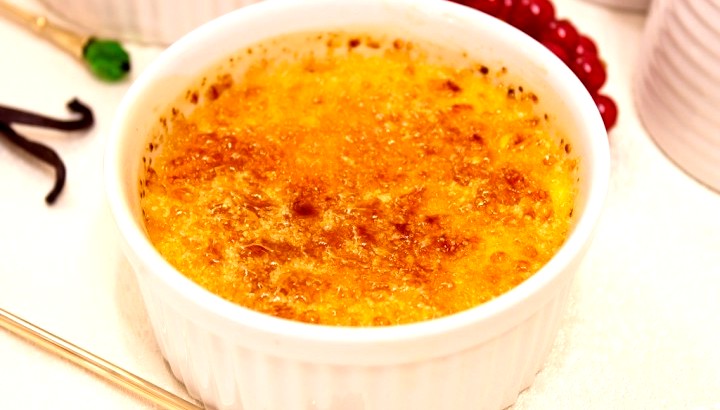 Delicious dessert!
Delicate-tender cream under a thin crispy sugar crust.
I recommend using natural vanilla, it gives an incredible flavor to the dessert.
From the specified amount of ingredients, 3-4 servings are obtained.
Ingredients
500 ml cream 33-35%
5 yolks
70 g sugar
vanilla pod (or 2 tsp vanilla sugar)
also:
Preparation
Cut vanilla pod.
Take out the seeds (if the pod is large, you can use half).
Grind the yolks with sugar.
Add vanilla seeds.
Mix.
Bring the cream to a boil.
Remove from fire.
Cool slightly (for 10-15 minutes).
Pour hot cream in a thin stream into the yolk mass.
Mix.
Pour the mass into small molds.
Put the molds in a large shape.
Gently pour hot water so that it reaches the middle of the small molds.
Put the mold in an oven preheated to 180 degrees.
Bake for 40-45 minutes.
To check the readiness, you can gently shake the mold, the dessert should resemble jelly in consistency.
Cool the finished dessert completely.
Sprinkle the cooled dessert with a thin layer of brown sugar (about 2 tsp per mold).
Using a special flambing gun, heat the sugar until caramelized.
If you don't have a gun, you can put the dessert in the oven under the grill and bake until golden brown..
Cool the finished dessert completely and serve.
Enjoy your meal!