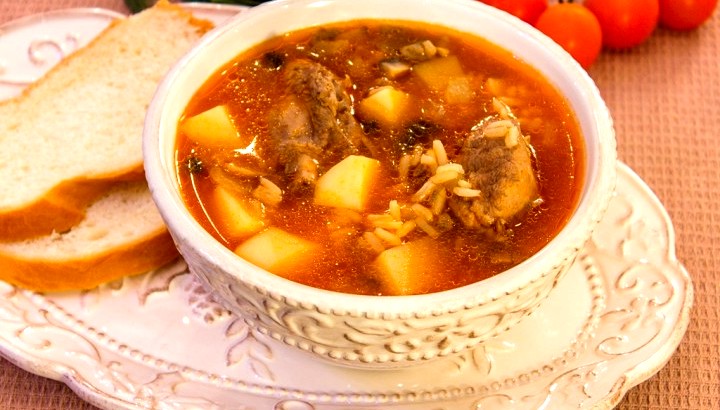 I bring to your attention duck soup.
We are all used to baking duck, but I highly recommend trying to use it in soup.
The soup is delicious! You can use chicken instead of duck, but you get a completely different taste..
The amount of ingredients is indicated per 4 liter saucepan..
Ingredients
half duck (about 1 kg)
600 g potatoes
300 g mushrooms
150 g rice
150 g onions
3 tbsp tomato sauce
salt
pepper
vegetable oil
Preparation
Finely chop the onion.
Finely chop the mushrooms.
Cut off fat from the duck (we won't need it).
Cut into small pieces.
Fry the onions in a saucepan in vegetable oil.
Add mushrooms.
Fry for 10 minutes.
Add duck.
Fry lightly.
To fill with water.
Salt, pepper.
Cook for 40 minutes.
Peel potatoes.
Cut into cubes.
Add rice to broth.
Add potatoes.
Cook for 10 minutes.
Add tomato sauce.
Salt if necessary.
Cook until potatoes are tender.
Enjoy your meal!