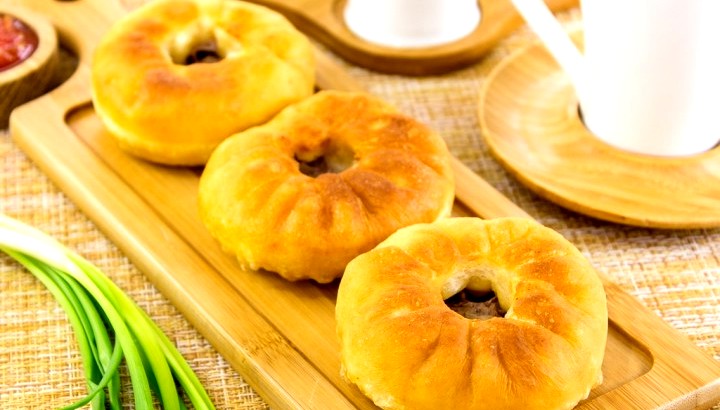 Belyashi .. What can I say about them? :)
It is very tasty, satisfying.
The meat is juicy and aromatic. The dough is tender, airy, very tasty.
From the specified amount of ingredients, 10-12 pieces are obtained.
Ingredients
dough:
400 ml milk
10 g dry yeast
1 tbsp Sahara
50 ml vegetable oil
1 egg
1 tsp salt
600-700 g flour
filling:
300 g beef fillet
200 g pork fillet
200 g onions
50 ml cold water
salt
pepper
also:
Preparation
Heat the milk (it should be warm, not hot).
Add sugar.
Mix.
Add yeast.
Add 250 g flour.
Mix.
Put in a warm place.
Dough should increase in volume.
Add egg, oil, salt.
Mix.
Add remaining flour (350-400).
Put in a warm place.
The dough should rise.
Cooking the filling.
Finely chop the onion.
Pass beef and pork through a meat grinder.
Add onion to the meat.
Mix.
Add water.
Mix.
Salt, pepper.
Mix.
Form a dough from the dough (the size of a chicken egg).
Roll out (3-4 mm thick).
Lay out the filling.
Form whites.
Belyashi can be made closed, can be with a hole.
Heat a large amount of vegetable oil in a frying pan.
Lay out the whites, hole down.
Fry for about 7-8 minutes.
Flip.
Fry for about 7-8 minutes.
Enjoy your meal!