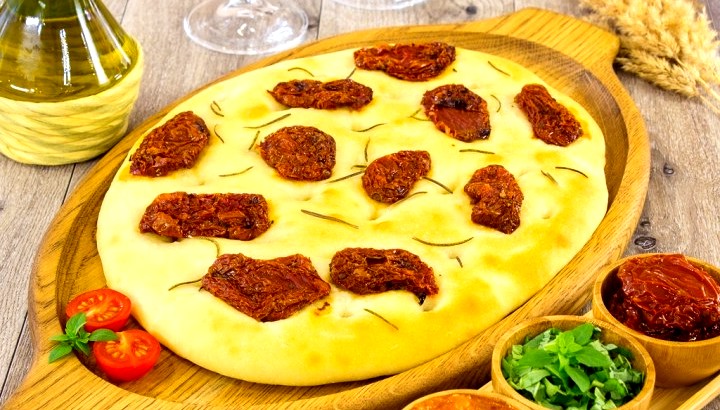 Focaccia – Italian flatbread made from wheat flour.
I suggest trying focaccia with sun-dried tomatoes and rosemary. You can make focaccia with olives, thyme, cheese, etc..
From the specified amount of ingredients, 1 focaccia weighing about 500 g is obtained.
Ingredients
200 ml of water
7 g dry yeast
30 ml olive oil
1.5 tsp salt
1 tsp Sahara
300-350 g flour
rosemary
sun-dried tomatoes
Preparation
Warm up the water (it should be warm, not hot).
Add sugar.
Mix.
Add yeast.
Add 150 g flour.
Mix.
Put in a warm place.
Dough should increase in volume.
Add salt.
Add oil.
Mix.
Add flour.
Put in a warm place.
The dough should rise.
Grease a baking sheet or cover with baking paper.
Form a cake about 1 cm thick from the dough.
Make grooves.
Lubricate with oil.
Lay out the tomatoes.
Lay out rosemary.
Let the cake rise.
Put in an oven preheated to 180 degrees.
Bake for 10-15 minutes.
Enjoy your meal!