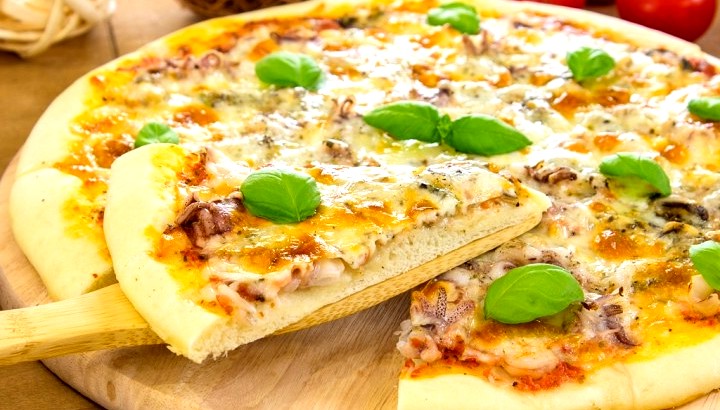 If you love seafood, you will definitely love this pizza. The main thing is to use quality seafood. You can only use shrimp, it will turn out delicious too. I used a frozen seafood cocktail. Thawed it before cooking, drained all the liquid.
From the specified number of ingredients, one pizza with a diameter of 30 cm is obtained.
Ingredients
dough:
100 ml of water
3 g yeast
1 tsp Sahara
0.5 tsp salt
2 tbsp vegetable oil
130-150 g flour
filling:
200 g seafood
1 tsp dried oregano
salt
pepper
also:
200 g tomatoes
1 tbsp dried oregano
150 g mozzarella (or any cheese)
Preparation
Dissolve sugar in warm water.
Add yeast.
Mix.
Let the dough rise.
Add salt, oil.
Add flour.
Knead the dough.
Let the dough rise.
Chop the tomatoes.
Add oregano.
Mix.
Grate cheese on a medium grater.
Mold (I used a mold with a diameter of 30 cm) grease with oil.
Put out the dough.
Lay out the tomatoes.
Lay out seafood.
Salt, pepper.
Sprinkle with oregano.
Sprinkle with cheese.
Put in an oven preheated to 180 degrees.
Bake for 15-20 minutes.
Enjoy your meal!