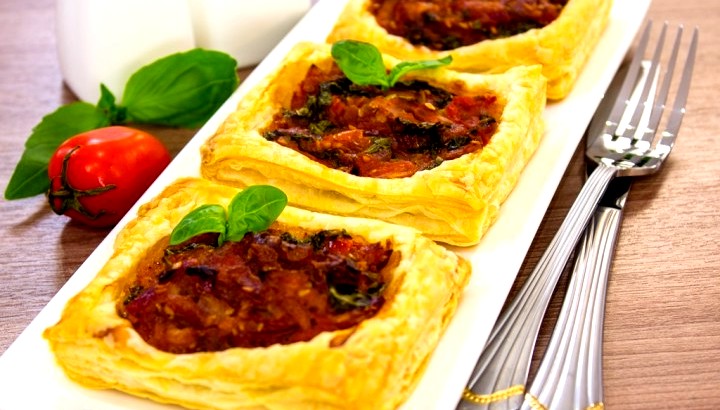 Delicious tarts!
Crispy dough, juicy, aromatic filling.
It is very important to use ripe, tasty, not sour tomatoes.
I recommend using red onions, it tastes more delicate, but if there is no red onion, you can use regular.
From the specified amount of ingredients, 9-10 tarts are obtained.
Ingredients
500 g puff pastry (yeast-free or yeast-free)
450 g tomatoes
250 g onions
basil
salt
pepper
vegetable oil
Preparation
Cut the onion into strips.
Cut the tomatoes into small pieces.
Finely chop the basil.
Fry the onion in vegetable oil.
Add tomatoes.
Simmer for 3-4 minutes.
Salt, pepper.
Add basil.
Stir, remove from heat.
Cut out 10 × 10 cm squares from the dough.
Line a baking sheet with baking paper or grease.
Put out the dough.
Departing from the edge 1 cm, make cuts around the perimeter without cutting through the dough.
Put the filling (drain the liquid).
Put in an oven preheated to 180 degrees.
Bake for 20-25 minutes.
Enjoy your meal!