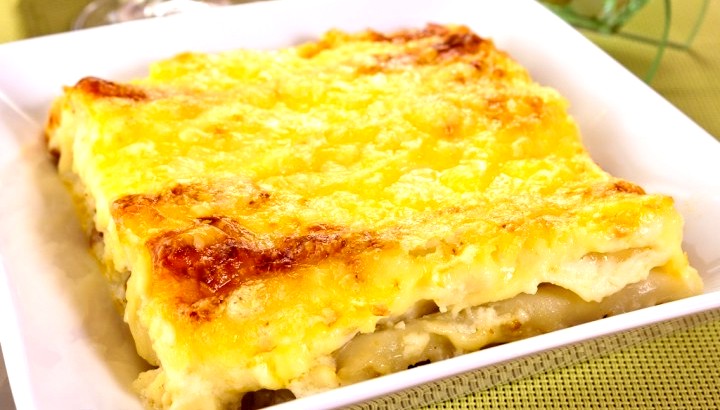 This dish can be prepared both for a holiday and for a family dinner..
Cannelloni is a large tube pasta.
They are sold in stores in the pasta section..
From the specified amount of ingredients, 6-8 servings are obtained.
Ingredients
200-250 g cannelloni
500 g minced meat (any, to taste)
500 g tomatoes
200 g onions
3 cloves of garlic
150 g cheese (hard)
vegetable oil
salt
pepper
béchamel sauce:
50 g butter
3 tbsp flour
1 liter of milk
salt
pepper
Preparation
Finely chop the onion.
Finely chop the garlic.
Remove the skin from the tomatoes.
Cut into small cubes.
Fry onions and garlic in vegetable oil until golden brown.
Add minced meat.
Fry.
Add tomatoes.
Salt, pepper.
Fry for 10-15 minutes.
Cool down.
Make béchamel sauce.
Melt butter.
Add flour.
Fry a little.
Pour in milk,.
Salt, pepper.
Cook until thickened (the sauce should resemble liquid sour cream in consistency).
Grate cheese on a medium grater.
Cannelloni fill with minced meat.
Do not stuff the tubes with minced meat, otherwise they may burst.
Place half of the béchamel sauce in a baking dish.
Upload cannelloni.
Add remaining sauce.
Put in the oven.
Bake at 180 degrees for 30 minutes.
Sprinkle with cheese.
Bake for 10-15 minutes.
Enjoy your meal!