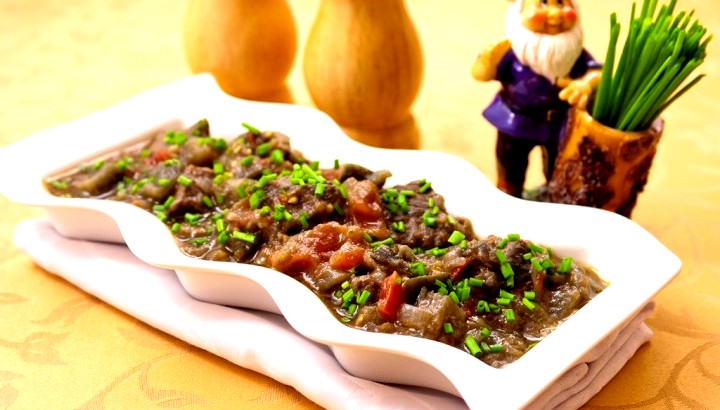 Lamb and eggplant – a wonderful duet.
Tomatoes add juiciness and flavor to the dish.
You can prepare mashed potatoes or rice as a side dish.
From the specified amount of ingredients, 6-8 servings are obtained.
Ingredients
500 g fillet of lamb (or pork, beef)
500 g eggplant
350 g tomatoes
150 g onions
2-3 cloves of garlic
salt
pepper
vegetable oil
Preparation
Cut the eggplants into cubes.
If the eggplants are bitter, salt them, leave for 30 minutes, then rinse in cold water.
Cut the onion into half rings.
Dice the tomatoes.
Cut the meat into small pieces.
Fry the onion in vegetable oil.
Add meat.
Fry.
Add eggplant.
Simmer covered for 20 minutes.
Add tomatoes.
Salt, pepper.
Simmer covered until tender (about 20-30 minutes).
5 minutes before readiness, add garlic squeezed through the garlic press.
Sprinkle with herbs when serving.
Enjoy your meal!