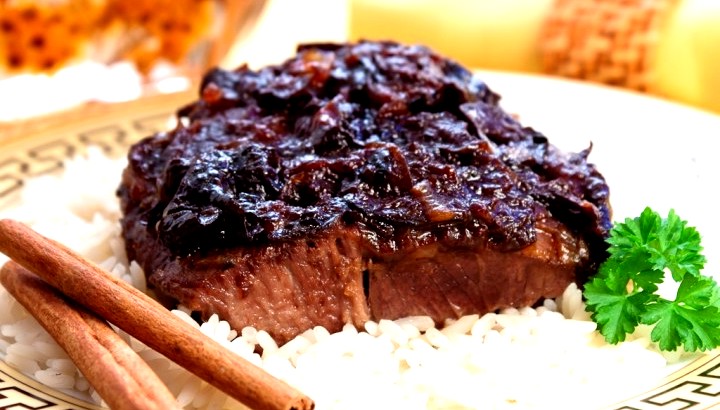 Very aromatic and tender meat.
Rice is ideal for garnish.
From the specified amount of ingredients, 3-4 servings are obtained.
Ingredients
1 kg lamb (or beef)
150 g prunes
1 cinnamon stick (or 1 teaspoon ground cinnamon)
150 g onions
salt
pepper
peppercorns 5 pcs.
vegetable oil
Preparation
Cut the onion into strips.
Cut the prunes into small pieces.
Lightly fry the onion in vegetable oil.
Add meat (cut into 1-1.5 cm thick slices).
Simmer for 3-4 minutes.
Turn over, cover.
Simmer over low heat for 10-15 minutes.
Add prunes and cinnamon.
Add 100 ml of water.
Cover with a lid and simmer over low heat for 35-40 minutes.
Turn the meat.
Salt, pepper.
Simmer covered for 10 minutes.
Enjoy your meal!