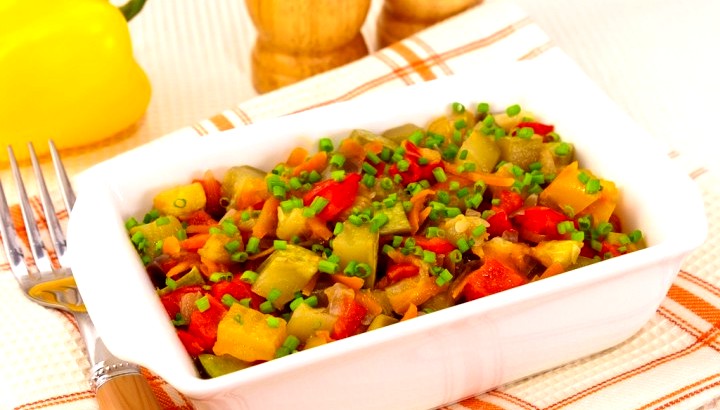 You can use eggplant instead of zucchini..
This dish is suitable as a side dish with almost any meat, it can also serve as a full, light lunch or dinner..
From the specified amount of ingredients, 6-8 servings are obtained.
Ingredients
500 g courgettes (or zucchini)
400 g bell pepper
200 g carrots
200 g onions
greens to taste
salt
pepper
vegetable oil
Preparation
Finely chop the onion.
Grate the carrots on a medium grater.
Pepper, peel, cut into cubes.
Zucchini cut into cubes.
If the zucchini is small, you don't need to peel it.
Large zucchini must be peeled and seed removed.
Fry the onion in vegetable oil.
Add carrots.
Fry.
Add pepper.
Simmer covered for 5-7 minutes.
Add zucchini.
Salt, pepper.
Simmer covered for 15-20 minutes (no need to add water).
Sprinkle with herbs when serving.
Enjoy your meal!