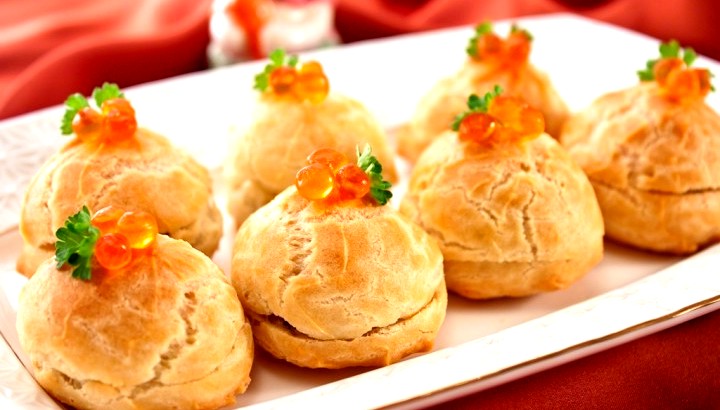 I filled the profiteroles with all 3 fillings, there was enough filling, but a little liver was left.
It can be spread on bread, you get delicious sandwiches.
If you want to use only one version of the filling, then it must be increased by 2-3 times..
The dough for profiteroles is prepared in the same way as eclairs, they differ only in shape.
Profiteroles can be baked in advance, 2-3 days before the celebration, put them in a bag, and stuffed before serving.
From the specified amount of ingredients, 30-35 pieces are obtained.
Ingredients
dough:
100 g butter
4 eggs
180 g flour
½ tsp salt
filling No. 1:
300 g chicken liver
100 g onions
100 g carrots
3 tbsp sour cream
salt
vegetable oil
filling number 2:
150 g trout or salmon (lightly salted)
1 tbsp red caviar
2-3 tbsp. l. almetta or sour cream
greens
filling No. 3:
5 tbsp boiled condensed milk
50 g of nuts (I have walnuts, almonds, hazelnuts)
Preparation
Boil 250 ml of water.
Add oil, salt.
Boil.
Pour flour into boiling water.
Mix.
Boil for 2 minutes.
Cool the mass a little.
Add one egg.
Mix well.
Add second.
Mix.
Add all the eggs this way.
If the eggs are small, you may need 5 of them.
Cover the baking sheet with baking paper (or grease with oil).
With a spoon or using a pastry syringe, lay out the dough in the form of balls with a diameter of about 4 cm.
If there is no syringe, you can put the dough in a bag, cut off the corner, and squeeze.
Put in an oven preheated to 180 degrees.
Bake until golden brown, about 35-40 minutes.
Do not open the oven door during baking.
Cooking the filling No. 1.
Finely chop the onion.
Grate the carrots on a medium grater.
Fry the onions in vegetable oil.
Add carrots.
Fry.
Add liver.
Salt.
Fry over medium heat, covered, for 10 minutes, stirring occasionally.
To check if the liver is ready or not, break a piece.
If a light liquid is released, the liver is ready.
Put the liver with onions and carrots in a blender.
Mix.
If there is no blender, you can skip everything through a meat grinder.
Add sour cream.
Stir again.
Cooking the filling No. 2.
Finely chop the trout.
Finely chop the greens.
Mix trout, herbs, caviar.
Add almette.
Mix.
Cooking the filling No. 3.
Chop the nuts in a blender or with a knife.
Mix condensed milk and nuts.
Cut the baked profiteroles into two parts.
Lay out the filling.
Connect halves.
Decorate to taste.
I decorated the profiteroles with trout with caviar and herbs, with the liver – herbs, with condensed milk – sprinkled with icing sugar.
Enjoy your meal!