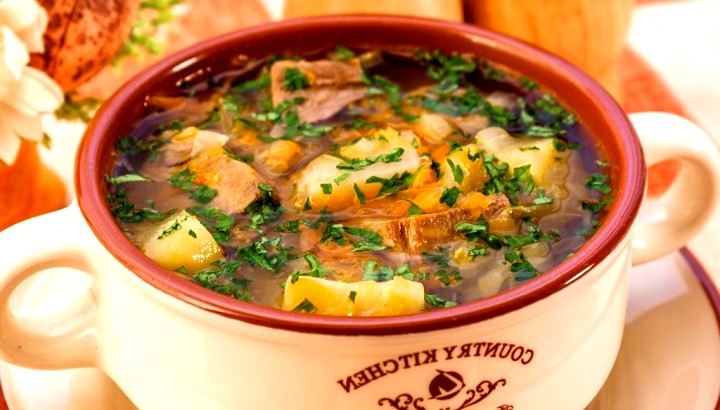 How many varieties of this dish there are – you can't count.
In every house, cabbage soup is prepared in its own way.
I offer a simple but delicious recipe.
The amount of ingredients is indicated per 4 liter saucepan..
Ingredients
700 g beef
300 g sauerkraut
600 g potatoes
200 g carrots
200 g onions
parsley or parsnip root
salt
pepper
Bay leaf
Preparation
Boil the meat until tender (cook for 1-1.5 hours after boiling).
Cut the meat into small pieces.
Add back to broth.
Finely chop the onion.
Grate carrots on a coarse grater.
Fry the onion in vegetable oil.
Add carrots.
Fry.
Peel potatoes.
Cut into cubes or sticks.
Add potatoes to boiling broth.
Cook for 5-7 minutes.
Add cabbage (if the cabbage is very sour, rinse it in cold water).
Cook for 10 minutes.
Add sauteed onions and carrots.
Add parsley or parsnip root, pepper, bay leaf.
Salt if necessary.
Cook until potatoes are tender.
Enjoy your meal!