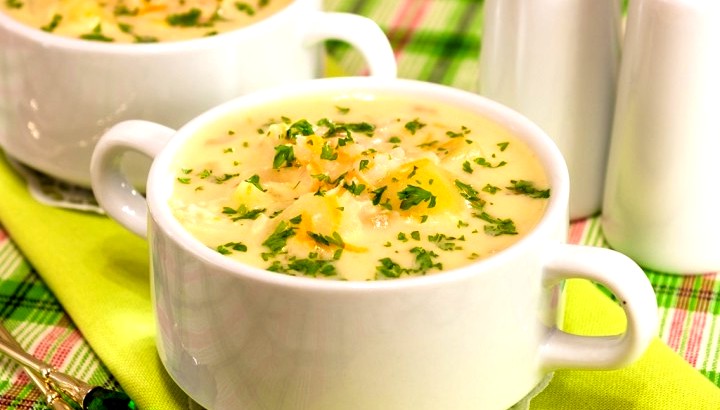 What a delicious soup!
If you haven't tried it yet, be sure to try it.!
Delicate, with an amazing creamy taste.
It is prepared very simply and quickly..
The amount of ingredients is indicated per 4 liter saucepan..
Ingredients
500 g chicken fillet
400 g processed cheese
150 g rice
400 g potatoes
150 g carrots
150 g onions
salt
pepper
greens to taste
Preparation
Pour chicken fillet with 3 liters of water.
Salt, pepper.
Cook until tender (about 20 minutes after boiling).
When the fillet is ready, remove it.
Pour rice into boiling broth.
Cook for 10 minutes.
Finely chop the onion.
Grate carrots on a fine grater.
Peel potatoes.
Cut into cubes or cubes.
Cut the meat into small pieces.
Add potatoes to the broth.
Add onion.
And carrots.
Cook for 5-7 minutes.
Add meat.
Cook until potatoes are tender.
Add cheese.
Mix.
Remove from fire.
Sprinkle with herbs when serving.
Enjoy your meal!